Monroe College in New Rochelle, NY awarded two full academic scholarships, each valued at $49,600, during its fourth annual "America's Best High School Chef and Pastry Chef" (ABHSC) competition, March 3rd, in New Rochelle. Yocary Luna, a senior at Food & Finance High School, was one of two students who won a full academic scholarships in the Culinary Arts category.
"The competition is tough, the criteria for winning is fair but stringent, and, perhaps most important, the experience for the student participants can be a deciding factor in whether or not they want to really pursue a career in this very demanding profession," said Dr. Frank Costantino, dean of the School of Hospitality Management and the Culinary Arts. "I judge culinary competitions all over the country, on both college and professional levels. The high school students who participated in this year's America's Best High School Chef competition were among some of the most talented competitors that I have ever judged."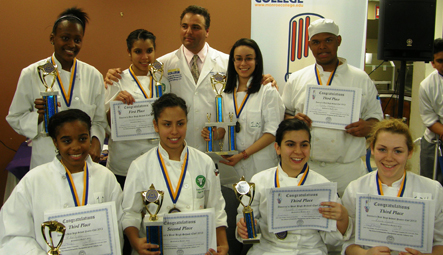 One of the second place scholarships of $3,500 per semester through their bachelor's degree was awarded to Nashali Rivera, Culinary Arts, of Food & Finance High School, Manhattan. Rondy Mendoza from Truman High School took home a third place win in the Culinary Arts competition.
Each participant who did not receive one of the top three prize categories was awarded $1,500 per semester towards the completion of their bachelor's degree. All scholarship money is for enrollment in Monroe's School of Hospitality Management and the Culinary Arts.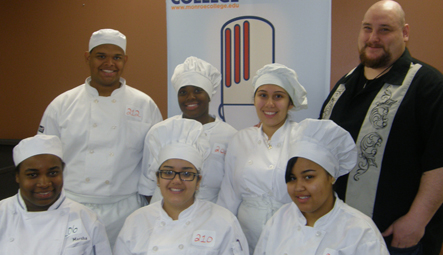 "All 31 of this year's participants are a credit to their coaches who deserve their own recognition," added Costantino.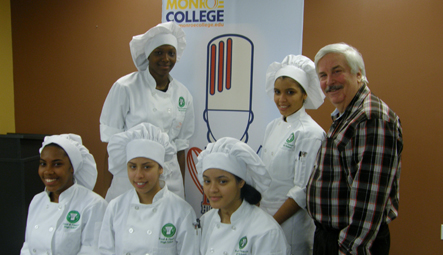 Students participating in ABHSCC had to pre-qualify for the competition. They had to submit academic records, an essay and, in the Baking & Pastry category, recipes and photos of their entries. The contest for culinary students was comprised of three rounds of competition: basic kitchen skills to demonstrate a student-level mastery of the julienne method, preparing and presenting two plated salads choosing from multiple ingredients, and a final round preparing chicken entrées of their own creation but using only the ingredients provided in a "mystery basket".
"Competing prepares students for the rigors of the industry," noted Costantino. A food service professional and chef for more than 25 years, Costantino continues to participate in competitions.
This article was published on the DOE website.