Only second player under coach John Burke to head to Division I
BY MITCH ABRAMSON / NEW YORK DAILY NEWS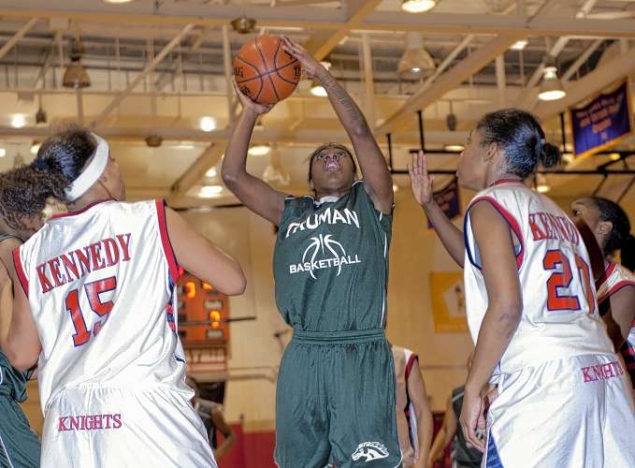 Krystal Pearson (c.) is headed to Towson University.
Truman coach John Burke credits Krystal Pearson — his team's 5-11 senior forward — with turning the Mustangs into a city power.
"This is the house that Krystal built," Burke said on Tuesday, minutes before Pearson signed a national letter of intent to attend Towson University.
The Mustangs were a middling program before Pearson suited up for Burke as a sophomore. Now, Truman is among the city's best, having earned a berth in the PSAL quarterfinals last season.
"Yeah it was hard in the beginning," Pearson said. "We didn't have much. Most of the players who came into high school wanted to go to Kennedy or to other schools. Now, we have players who want to come here. I stayed at Truman because I love the coach and the school. I wanted to try to build something here."
Pearson chose Towson University over Virginia Commonwealth, saying she felt comfortable with Towson's coaching staff. She also liked that Towson has the two areas of study she's considering majoring in — nursing and criminal justice.— Abramson
Read more: http://www.nydailynews.com/sports/high-school/krsytal-pearson-5-11-truman-hs-signs-national-letter-intent-towson-university-article-1.1063225#ixzz1tXwrilUx