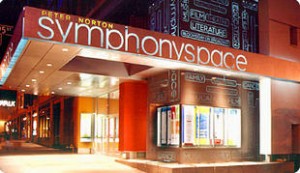 Vocal harmony and ringing chords bounced from one end of the Peter Jay Sharp Theatre to the other as the "Double Feature" concert, presented by the Voices and Sirens of Gotham took to the stage.  This year, for the second time, students in Truman's Media Program were hired to capture the event.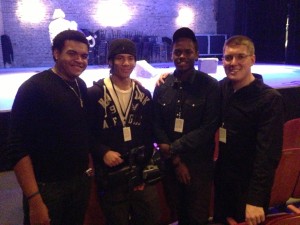 "It's cool that they asked us to come do it again," says senior Johnathan Harrington.  He and Truman alum Renaldo Campbell filmed the event in 2011.  They were joined by newcomer and senior Matthew Rivera, who shot his very first "paid" gig.
The team, led by Media instructor Mr. Roush, established three separate camera locations in the theater, and captured various angles and perspectives of the show.  The Voices of Gotham leadership was so impressed with the video that was produced in 2011, that they hired the team back again this year.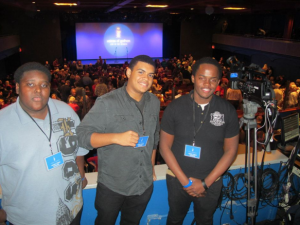 "I think for them, it was a no-brainer," says Mr. Roush.  "A lot of people make assumptions when they think of the quality of work produced by 'students,' but what Voices of Gotham found after 2011- was that our kids produced professional-grade video."  Roush went on, "for us, it's a win-win, because now they're applying what they learned in the classroom, and getting real professional experience at the same time.  It doesn't hurt that they made a few dollars in the process, either!"
For more information: