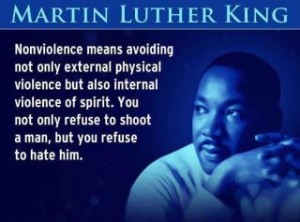 The Rev. Martin Luther King, Jr., is usually remembered for his heroic leadership of the civil rights movement — he led the successful Montgomery bus boycott, delivered the "I Have A Dream" speech at a time when such words were still controversial, and ultimately gave his own life to the cause of equality.
But Dr. King was much more than a civil rights champion — he was a man who lived his entire life in service to others, speaking out against poverty, economic injustice, and violence. Wherever he saw suffering, he did what he could to help, no matter who it was that needed him or why they were in pain. Through his leadership, he showed us what we can accomplish when we stand together.
Each January, we remember Dr. King on his own holiday — and one of the best ways to preserve his legacy is to engage in service ourselves. As Dr. King told us, "Life's most persistent and urgent question is: 'What are you doing for others?'"
The peer leaders from the Relationship Abuse Prevention Program (RAPP) invite you to join us for the second annual "Living His Dream: A Call to Action." While we have come a long way since the 1960's, we still have a ways to go. It is our responsibility to carry Dr. King's to our generation, and the generations behind us.
Here are some Dr. King quotes and calls to action… use one a day! Let social media be used as a tool for education and awareness. Whether you're on facebook, instagram or twitter, use the caption 'Living His Dream: A Call to Action' and hashtag #livingMLKsdream.
"Life's most persistent and urgent question is 'what are you doing for others?'"
Call to Action – Seek to gain understanding of those who are different.
"We are caught in an inescapable network of mutuality, tied in a single garment of destiny."
Call to Action – Promote RESPECT and foster a hate-free community.
"If you want to be important – that's wonderful. If you want to be great – that's wonderful. But recognize that he who is greatest among you shall be your servant. That's your new definition of greatness – it means that everybody can be great because everybody can serve."
Call to Action – Continually strive for greatness. Treat everyone with respect.
"In the end, we will not remember the words of our enemies, but the silence of our friends."
Call to Action – Recognize that respecting individual dignity and promoting inter-group harmony are the responsibilities of ALL!
"I am convinced that if we are to get on the right side of the world revolution, we as a nation must undergo a radical revolution of values."
Call to Action – Believe that one person can affect positive change. WE ARE THE CATALYST FOR CHANGE!
"It may be true that the law cannot make a man love me, but it can keep him from lynching me, and I think that's pretty important."
Call to Action – Reach out and support those who are targets of hate.