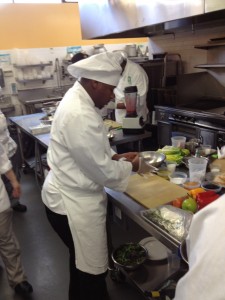 BRONX – They came… they cooked… they brought home over $100,000 in scholarship awards.  Seven seniors in Truman's Culinary Arts Program, under the leadership of Chef Jeff Brylski, competed in Monroe College's "America's Best high School Chef" competition.
Anthony Evans, Brian Ortiz, Jennifer Marlon, Lannell Richardson-Lewis, Meagan Cortes, Shanice Trim and Yuleisy Guaba took part in the tournament.  They were challenged in a timed knife-skills round, as well as a salad round.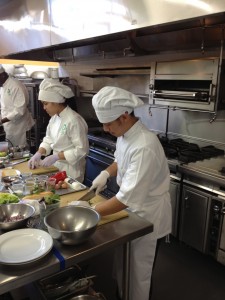 Out of 28 competitors, only eight advanced to the final round – including three from Truman.  Evans, Marlon and Richardson-Lewis took second place overall.  Every student in the competition received a $12,000 scholarship.  Evans won over $40,000 himself – and an academic scholarship that will pay his full tuition at Monroe.  Trim, Guaba and Marlon have also received awards large enough to pay their entire tuition at the school.
Finally, Ortiz and Richardson-Lewis were announced as finalsts in the CCAP Culinary Competition.  They competed on March 20th for scholarships to various culinary institutions.