BRONX – It's a painting that will be viewed by hundreds, if not thousands of people in Washington, DC for the next year.  Cabria Cummings, a student in Ms. Mills' painting class was selected as the winner of the Congressional Art Contest sponsored by Representative Eliot Engel (D-16th District).  Her painting, titled "The Reflection in Me," depicts a self-portrait of Cummings looking into a mirror, and seeing Bronx native Supreme Court Justice Sonia Sotomayor looking back.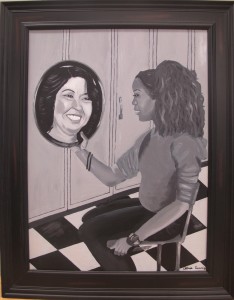 According to the contest website, each spring the Congressional Institute sponsors a nationwide high school visual art competition, "to recognize and encourage artistic talent in the nation and in each congressional district."  Cummings, along with several other Truman students submitted their work to Congressman Engel's office.  She was selected as the top prize winner representing Engel's district, with a photograph by Jocelyn Smith taking the second runner-up slot.
Cummings was given two airline tickets to Washington DC to attend an awards ceremony.  Her work will be on display in the Cannon Office Building for the next year.