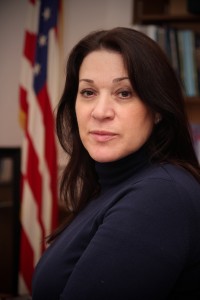 BRONX, NY – The Harry S Truman High School now has a new principal.  According to Carron Staple, superintendent for the New York City Department of Education's District 11, Keri L. Alfano was selected from among several candidates for the job.  Alfano succeeds longtime Principal Sana Q. Nasser, who retired last September after 15 years as Truman's leader.
"I am honored to permanently take on the role of principal at Truman High School,"  says Alfano, who was tapped to take over the day-to-day operation of the school as an interim acting principal.  Alfano is no stranger to the building, though.  She has been a part of the Truman family for 11 years, and headed several departments during her time as assistant principal of special education and security.  She has also spearheaded the school yearbook, and student life activities including senior trips and the prom.  Alfano added, "Truman has always been known as the "beat the odds" school, and my goal is to lead my staff, this community and our current and future Truman students in continuing to push forward, and strive to achieve new goals."
Principal Alfano takes the reigns from former Principal Nasser, whose tenure included improvements in the school's quality review ratings, school report card scores and a dramatic reduction in school crime numbers.
"Truman High School holds a very special place in my heart.  I am thrilled to hand over the reigns of the only successful large high school in the Bronx to Ms. Keri Alfano," says Nasser.  "I extend my congratulations to Ms. Alfano and to the Truman High School community on her appointment to the position of principal.   Ms. Alfano is an experienced administrator who has been at Truman for many years.   She is committed to her students' success and I am certain she will continue to push her students' performance to greater heights with her skillful and talented teaching staff by her side.  Truman is in great hands."
"From the staff's perspective, it really has been a smooth transition," according to media teacher Dave Roush.  "She's been in the building as long as I've been a teacher here, so most of the staff already know her personality and her style.  It's nice to have a familiar face in the principal's office, and she knows and appreciates just how hard the staff is working."
Alfano says she hopes to continue building on the growth and success that Truman has earned in the past several years.  She also says that she is committed to attracting the best students to the school – and working closely with Truman's neighbors in the surrounding Co-Op City community.
Currently the home of over 1,800 students, Truman High School's recent infrastructure improvements boast a newly-renovated indoor swimming pool, state-of-the-art digital planetarium, television production studio and multimedia content center, robotics testing and competition labs, professional-grade culinary instructional kitchens, a law library and mock courtroom, as well as a flight simulator.
For more information about Truman, visit http://www.bxtrumanhighschool.com
#  #  #