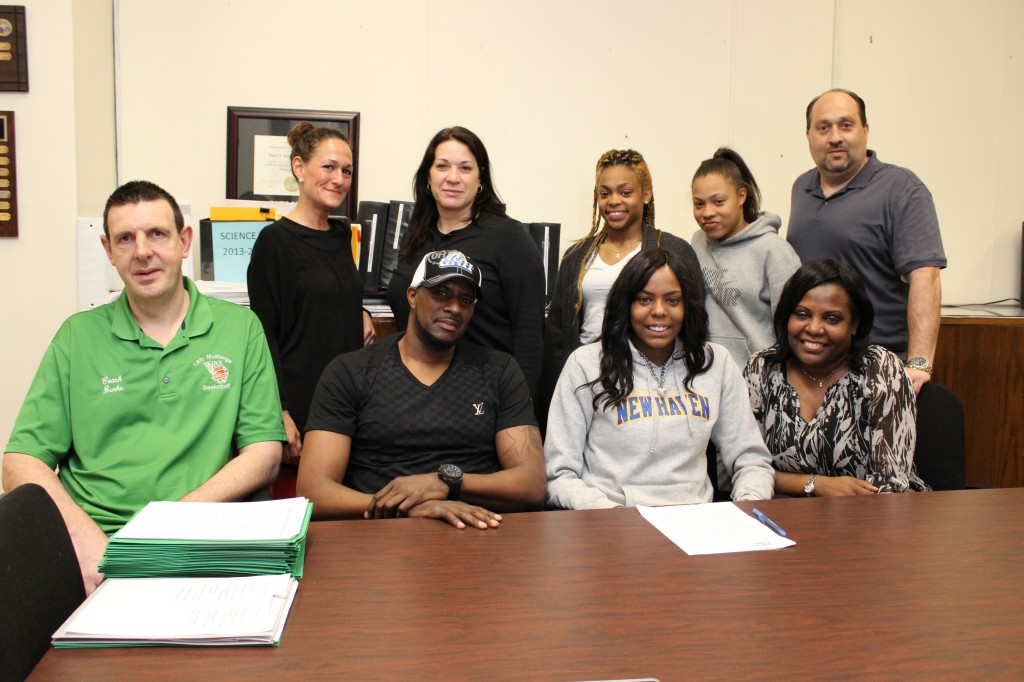 (FROM MSGVARSITY.COM)
BRONX, NY – Truman basketball star DaQuana Smith had plenty of college choices while she was completing a successful four-year career at the Co-Op City School.
The 5-foot- 11 forward took plenty of things into consideration, but Smith was convinced that the University of New Haven was the right choice to continue her basketball career. The Mustangs star signed her National Letter of Intent on May 1 in front of her teammate, family and Truman coach John Burke.
"It was close to home because I can see my parents more. I didn't want to go too far," Smith said. "The team welcomed me when I went on my official visit and I was comfortable with the coaches."
The all-time leading scorer in school history played an integral role this season in leading Truman to a 15-8 record and a berth to the PSAL Class AA quarterfinals. Smith averaged 16.5 points per game and grabbed 13.4 rebounds in her senior campaign as she earned MSG Varsity all-city second team honors and All-Metro honorable mention
Smith is the second player in the family to earn a college scholarship following in the footsteps of her cousin; former Archbishop Molloy and University of Louisville star guard Russ Smith.
Even with interest coming from Division I schools Robert Morris and Northeastern, DaQuana Smith did not wait any longer to consider any other offers that could have gone her way. The senior will major in business management and minor in sports management at New Haven.
"I looked at the bigger picture as I would get more playing time instead of going to a factory school and sit out a year," Smith said. "I could do me better going to D2 and using my talents instead of sitting on the bench."
Embracing a challenge is just one of the many qualities that helped DaQuana Smith make an impact on the Truman basketball team according to Burke. A few years ago, the Mustangs forward chose to attend the Co-Op city school over an established Bronx power in JFK, who had reached the PSAL championship game back in 2011.
"At the time Truman wasn't as good as Kennedy. Because she came here, now we're better," Burke said. "But a the time she made the decision to go somewhere and play right away and become the best she could be. That's very similar criteria for what she is doing right now."
The Truman star wants to make an impact for a New Haven team who went 18-10 last season and joins former Wings Academy stars Rykema Stone and Aquillin Hayes in a talented frontcourt.
"They are getting an absolute steal," Burke said. "Her wingspan makes her much taller than 5-11. She can shoot, she can dribble, and she can pass. She has a tremendous work ethic and is smart."
All of the hard work Smith did on the court paid off as her father Darren and mother was present to witness her crowning achievement.
"It feels good to know I got a scholarship so my parents wont have to pay anything," Smith said with a smile. "I've worked hard for this and I'm so happy it's happened to me."