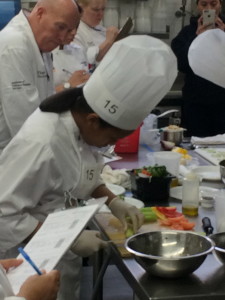 BRONX, NY – It's a contest called "America's Best High School Chef," and students from Truman High School's Culinary Program continue to prove that they have what it takes to earn that title.
Under the direction of Chef Jeffrey Brylski, three students took part in the contest, run by Monroe College.  Students competed in both culinary and pastry contests.  Briana Bennett, Eduardo Fernandez and Crystal Hicks not only competed – but each took home prizes of $18,000 in scholarship money towards a degree program at Monroe.  Hicks made it to the finals in the pastry competition.
Truman's Culinary Program boasts one of the highest graduation and college admission rates in the school, and continues to break records year after year.  In addition to Chef Brylski, the program is proud to have veteran Chef Harold Chase as part of a home-run team.  Congratulations to everyone involved in the program!