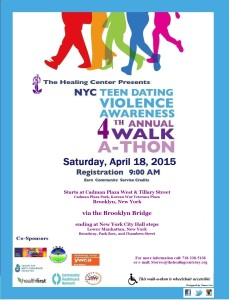 Saturday, April 18th!
Visit the NYC Teen Dating Violence Awareness facebook page for more information. https://www.facebook.com/nycteenwalk?fref=ts&ref=br_tf
*Every participant must complete a registration form*
They can complete the Registration Form and scan it and email it to (storres@thehealingcenterny.org) before 4/16/15 – OR
They can complete the registration form and bring it with them the day of the walk-thon
PLEASE, make sure the Registration Form has their signature-electronic signatures are not valid.
                           For any option, every participant MUST go to the registration table                                      the day of the walk-a-thon to receive their bookbag.