Thursday December 10, 2015 is International Human Rights Day!
It is a the culmination of #16Days of Activism, celebrating that each one of us, everywhere, at all times is entitled to the full range of human rights, that human rights belong equally to each of us and bind us together as a global community with the same ideals and values.
We invite the Truman community, students and staff, to participate. Wear your advocacy on your sleeve – whether you choose to promote Respect, Humanity, Equality, or Peace, or a specific cause, like Ending Human Trafficking, Stop Bullying.
Know that you are making a difference to those who struggle most, to feel safe and included in their everyday lives. You can drop by the RAPP office, 425A, for the materials.
Let us stand together, our Truman community, for respect, dignity, and kindness everyday!
Check out this link for information about the 30 articles in the Universal Declaration of Human Rights.
http://www.un.org/en/universal-declaration-human-rights/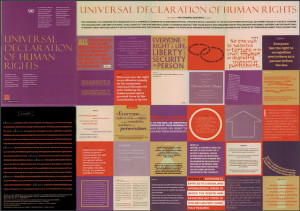 Check out this beautiful video on YouTube.