NEW YORK, NY – Truman High School's 10th Grade Honors Law class recently went head-to-head against four other schools to test their knowledge of the Constitution and Civics – as well as take and defend stances on various Constitutional issues.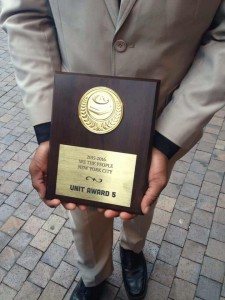 "We The People: The Bill of Rights and the Constitution" took place on December 12th at Martin Luther King High School on the city's upper-west side.  At the event, the class was broken into 6 teams, who each wrote a pair of essays on a given topic.  Once written, those essays were presented before a panel of judges, lawyers and law professors.  Finally, the students had to field questions about their subject.
"We competed against students who were 11th or 12th graders," according to teacher Marc Zanoni.  "We managed to win one unit."  The unit that Truman won was titled "What rights does the Bill of Rights protect?" The winning essay related more specifically to the merits of capital punishment.  Although the team had a great showing at the event, they were not able to move on to the next level of competition, which takes place at the state capital in Albany.