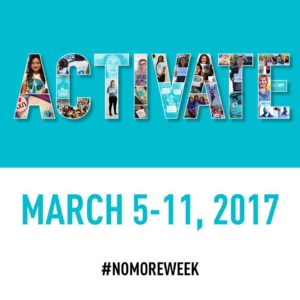 RAPP was proud to bring the #NoMoreWeek campaign to the Truman campus this month. In our ongoing work to educate and raise awareness about domestic violence/dating abuse, sexual assault, harassment, and bullying, campaigns like this give voice to communities.
We were glad to have staff and students participate, creating their own "No More" posters. Jehvonnia engaged her peers in discussion about the campaign before inviting them to contribute what their "No More" was, and discovered that most of her peers want to see an end to violence. Our community said No More objectifying women, No More blaming victims, No More trafficking, No More bullying, No More criminalizing and dehumanizing People of Color, No More sexism in sports, No More excuses, No More silent bystanders, and much more.
Additionally, we had the opportunity to engage the Parents' Association in an activity, "Decimos No Mas Parent-to-Parent Practice Cards," during this months PTA meeting. Parents, grandparents, and guardians actively participated and shared how glad they were to have conversations about how to communicate with teens about difficult topics.
Until April, where we are participating in International Anti-Street Harassment Week, the Teen Dating Violence Walk-A-Thon, the National Day of Silence, and Denim Day, here are some pictures taken during No More Week.