LOS ANGELES, CA – A field trip to California for four students in the Truman Media Program took an unexpected turn for their teacher on The Price is Right.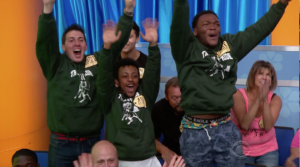 "I still can't believe it happened.  It just doesn't seem real," said media teacher Mr. Dave Roush.  "All I wanted to do was make sure my kids got a chance to see a real-live television production while we were in Hollywood.  Nobody could've predicted this in our wildest dreams."
While in the audience at The Price is Right, Mr. Roush was called to "Come On Down."  After winning a bid and losing a chance at a new automobile, Mr. Roush made it to the Showcase Showdown where he won a vacation and a convertible.  When the win was announced, Abel Zewde was one of the first students in the group to get up on the stage.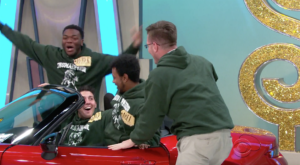 "I don't remember because it was a flash," Zewde recalled.  "All I remember was Lester (Robinson) in front of me.  He was running, I was running.  I tripped on the stage and broke a lightbulb.  There was no feeling, no emotion, just run!"
The show was taped on April 2nd and aired June 15th.  Both Mr. Roush and his students, Matthew Malave, Ebenezer Aboagye, Abel Zewde and Lester Robinson Jr. had to keep the winnings a secret for nearly two-and-a-half months.  They could not tell their classmates, their teachers – or even their parents.
"We could not get him to say anything, and that's not for lack of trying," according to Lester's mother Kim Robinson.  "Every few weeks I would inquire, thinking that I could get him to spill a bean or two, but he would not say one word about the show."
The team was in California to attend the Student Television Network's national convention in Anaheim from March 28th to the 31st.  They spent a few extra days in town to tour the area and check out some live television show tapings.  The team was also in the audience for a taping of America's Got Talent at the Pasadena Civic Auditorium.
"Every year I look for new ways to make the media students' experiences bigger, better and more exciting," Roush said.  "But honestly – I have no clue how we're going to top this."
You can check out an edited version of the show below: