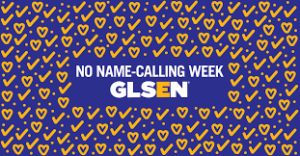 The Relationship Abuse Prevention Program (RAPP) at Truman was happy to participate in GLSEN's No Name-Calling Week. In a short week, where we were off Monday to commemorate Dr. Martin Luther King Jr., we were eager to participate in a meaningful way to carry on Dr. King's legacy, and No Name-Calling Week affords us that opportunity. Words have power. They can cause great harm. They can heal. They can cause confusion. They can be conduits of connection.
The message from GLSEN's official website, "No Name-Calling Week is an opportunity for students and educators to speak out against slurs and stereotypes, and stand for positive change in their school environments" is very much aligned to our work in the school community. RAPP Peer Leaders and Truman staff, wearing stickers with messages like "Kindness Counts," "I heart Kindness," and "Stereotypes," have been engaging their peers/students in conversation about the impact of name calling, on individuals and on the school community as a whole. Most of these conversations went well. Some of them demonstrated why campaigns like this are so necessary.
We hope that you'll join us, advancing #KindnessInAction for the remainder of the school year. With your allyship, we can put an end to bullying and stereotypes, and support a school community that lets people be who they are. Let's continue to do the work to make the Truman campus "No Place For Hate."
Truman staff and students, if you'd like to be involved in campaigns like this, please see RAPP Coordinator Erika Miller in room 425-A.
Parents, guardians, families, you can take part too. In your everyday interactions with teens, find opportunities to engage in discussion about school climate and culture. Ask your teen what they think about bullying, bias, and homophobia and what they do to put kindness in action.