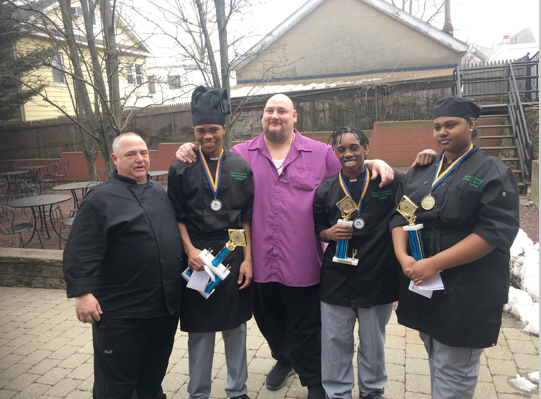 SUBMITTED BY: Chef Jeffrey Brylski
On Saturday March 10 2018 I, Chef Jeffrey Brylski had the honor once again to lead the Harry S Truman Culinary students into competition at Monroe Colleges Culinary Institute of New York. We trained on skills, professionalism in the kitchen and mastering of recipes. This years practices started in October and I worked daily with our Juniors and seniors on their applications, letters of recommendations, soft skills and all the students culinary and pastry skills needed to win competitions for college scholarship money.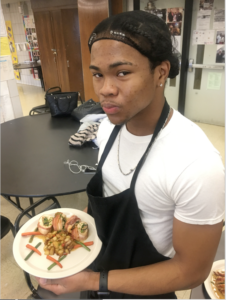 We compete in 2 competitions every year, for our culinary and pastry students: The first one is from the Careers through the Culinary Arts Program in which our juniors may compete in a preliminary competition preparing them for their senior year and a senior competition in which the seniors can compete to win scholarships ranging from $1,000 cash to full tuition scholarships valuing over $120,000 (Jodi Ann Willilams Truman culinary graduate won this scholarship to Johnson and Wales 2 years ago). The other competition is the one we competed in on 3/10/18 at Monroe College for America's Best High School Chef and America's Best High School Pastry Chef competitions.
It was a very long road this year I had more students then ever interested in competing in this very vigorous competition. The competition consists of 3 rounds in one day; first a knife skills challenge in which students must demonstrate 4 knives cuts in 30 minutes. Second; A salad round in which students have 30 minutes to make 2 plates of fine dining style salad from a basket of mystery ingredients. The best 6 competitors from the first 2 rounds go on to compete in a 1 hour long mystery round entree basket like on the T.V. show chopped and make 2 plates of the same entree in the hour using professionalism, sanitation, organization and proper cooking and plating of the entree. In addition to the culinary competition Monroe offers a pastry competition as well, in which students may compete for scholarships. The dessert competition the students must produce a fine dining style plated desserts in 90 minutes using the following elements: Chocolate, fruit, dough, sauce and garnishes.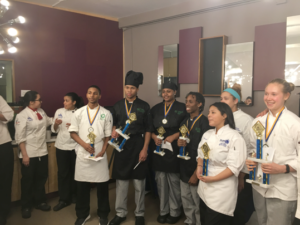 This year Truman had 5 culinary competitors and 3 pastry finalists compete on 3/10/18. We competed against 18 students from many different schools in culinary and 6 pastry finalists.
It's my pleasure to announce that Anthoney Desouza won first place, A full tuition scholarship and title of America's best high school chef. Anthoney had the best scores in all 3 rounds. Damion Scott Won second place and half tuition scholarship, Samantha Solomon won 1/3 tuition scholarship and was a finalist. We placed 3 out of 6 in the finals and won first and second place. Aalyiah Elias placed second in the pastry competition winning ½ tuition scholarship. Cyiani White and Kayla Brown both won 1/3 tuition scholarships and were both pastry finalist. The daily total for our students was approximately $190,500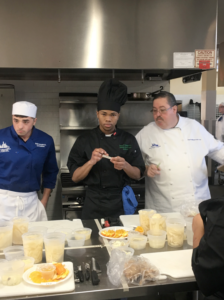 In addition Caitlyn Taylor and Brandon Spence won 1/3 tuition scholarships to Monroe for competing.
This competition was a career highlight for me as a chef and instructor. We worked so hard all year and to see the payoff was an amazing feeling. I am so proud of my students for all their hard work, passion and dedication to mastering their crafts.