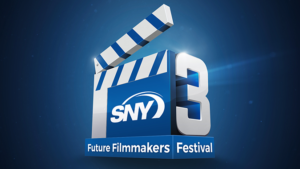 BROOKLYN, NY – Only in its second year, the SportsNet New York (SNY) Future Filmmakers Festival will feature two short films produced by Truman Media students.
"Honestly when I first found out, I literally got goose bumps and had a moment where I got a bit choked up," senior Moses Perez said.  "[It] truly had me shocked for a second, but I wanted to scream and jump at the same time."
The first finalist, entitled "Just Like Jason" is written and produced by Perez, with assistance from senior Angie Torres.  His film depicts a fictional story about a young boy who wants to follow in his deceased older brother's footsteps – to become a professional long board skater.
"When brainstorming for the video I had a pretty rough time but after a couple of bad ideas and a endless playlist of music it just hit me," Perez recalled.  "And once I thought of it- I knew I needed to make this come to life on film."
The second finalist, entitled "The Cycle," is written and produced by sophomore Jose Pagan, with assistance from senior cinematographer Abel Alexander.  His film is a fictional work about a track athlete named Mateo Santiago who uses running to help escape the social struggles that come along with growing up in the Bronx.
The third finalist was entered in the SNY Public Announcement Category by senior Angie Torres.  Her video challenged the stereotypes about female athletes who participate in the popular workout program called CrossFit.
"It's not very often that we enter a contest for the first time, and end up as finalists," said media instructor Dave Roush.  "Usually we have to compete a few years in a row and see a few years' worth of winners, to really understand exactly what the judges are looking for.  I was just as shocked as the kids when we found out they were picked.   Shocked… but not surprised.  The work these teams put together is some of the best cinematography, editing, and storytelling that I've seen in my ten years at the school."
As finalists, both teams already won a pair of tickets to a NY Mets game.  At the film festival on June 5th, they will have a chance at some part of $10,000 in cash and prizes to be given away.  The films will be screened at the IFP "Made in NY" Media Center in DUMBO, Brooklyn.  Once shown, each filmmaker will be interviewed on stage by organizers of the event.
"It's such an exciting thing for them," Roush added.  "Unfortunately for me – I cannot take any of the credit for what these teams have created.  I'm their teacher, but they're now putting together shooting and editing work that exceeds my own abilities.  It's magical to watch,  now that they've ventured off into a whole other realm of filmmaking."
"Now I just can't wait to see what happens June 5th," he added.