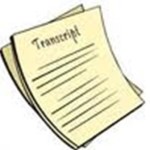 Due to the need for security of the documents, you may not just "walk in" to the front door of our school and "walk out" with a transcript in hand.  There is a multi-step process you must follow in order to make getting your transcript quick and easy.
First, we only mail out transcripts to colleges, the military, employers or anyone else requesting to see your academic record.  We do not hand them to you in an envelope at the school.  To request a transcript, follow these steps:
1.  Determine how many copies you need and where they need to be sent. Get exact mailing addresses for the people who need to see them.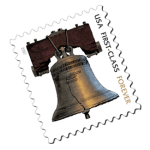 2.  Create envelopes for each transcript with the mailing address where they are to be sent written on the front.  You must attach a US Postal Service First-Class Stamp ($0.55 or "Forever").  Please note: if you do not include a zip code, room, office or box #, or Apartment # (if you have one) and the transcript does not reach the correct person, you will need to re-submit your complete request again – and pay the fee again.  please be sure to have the exact recipient's name and FULL address!
3.  Bring or send those envelopes to the front office of Truman High School.  You must include a $3.00 fee.  This fee helps defray the cost of researching, locating and copying your records.  Please note: You may request as many transcripts as you need, but pay only one fee each time you send in a request.  If a period of time passes and you need additional copies, you must pay the fee again.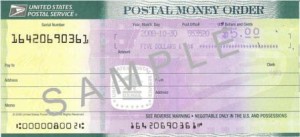 The fee only covers the number of transcripts made in one single request.  Also, Money Order (Payable to: "Harry S Truman High School") ONLY will be accepted.  We do not accept cash, check or credit card at this time.  
4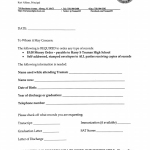 .  CLICK HERE TO DOWNLOAD AND PRINT A TRANSCRIPT REQUEST FORM or include a sheet of paper with your current full name, your full name when you were a student, your date of birth and the year that you graduated or were discharged and a phone number where you can be reached in case there is a question or problem.
5.  Your transcripts will be processed and mailed out to the recipients.  If you want a copy for yourself, be sure to include a stamped envelope with your current home address on it.  It will be mailed to you.
If you have any questions, please use our Contact Form, and select "Guidance Department."