This page is activated during weather emergencies. We will post all weather-related closings, alerts and advisories from City, State and Federal agencies. To go the regular Truman High School homepage, click here.
The latest updates will appear at the top, with a date and time stamp:
Jan. 27, 11:15a.m.
Dear Truman High School students and parents:
All city schools were closed on Tuesday, January 27. Regents exams that were scheduled for Tuesday have been rescheduled for Thursday, January 29.  These exams include Global History and Algebra. Students should report at the same time and to the same rooms indicated on their regents tickets.  Also, there have been no changes to the regents exams scheduled for Wednesday, January 28 and students should follow the information indicated on their regents tickets.  The exams for Wednesday include United States History and Chemistry.  As a reminder students should come prepared with several pens and pencils for all exams.  Cell phones and other electronic devices are prohibited during regents exams and can lead to a student's test being invalidated.   
Estimados estudiantes y padres de la escuela secundaria deTruman:
Todas las escuelas de la ciudad de Nueva York estan cerradas hoy el martes 27 de enero. Los exámenes Regentes que estaban programadas para el martes se han reprogramado para el jueves 29 de enero. Estos exámenes incluyen Historia Global y Álgebra. Los estudiantes deben reportarse al mismo tiempo y a los mismos salones de clases que se indican en sus boletos de regentes. Además, no hay cambios en los exámenes de Regentes programados para el miércoles, 28 de enero. Los estudiantes deben seguir la información indicada en sus boletos de entradas regentes. Los exámenes para el miércoles incluyen Historia de Estados Unidos y Química. Como recordatorio, los estudiantes deben venir preparados con varios bolígrafos y lápices para todos los exámenes. Los teléfonos celulares y otros dispositivos electrónicos están prohibidos durante los exámenes Regentes y pueden  que el examen del estudiante sea invalidado.
Jan. 27, 7:45a.m.
Mayor DeBlasio has announced that ALL NYC PUBLIC SCHOOLS ARE CLOSED ON TUESDAY.  ANY REGENTS EXAMS WILL BE RESCHEDULED ON THURSDAY.  SCHOOL WILL BE OPEN AS USUAL ON WEDNESDAY.
MTA Subways will begin to resume service later today
Governor Cuomo has lifted the travel ban for cars.
Jan. 25, 2015, 7:45pm
Jan. 25, 2015, 6:15pm
NYC Schools will be OPEN on MONDAY, JANUARY 26TH, however ALL AFTER-SCHOOL & PSAL ACTIVITIES ARE CANCELED. Regents exams will be given as-scheduled on Monday.
Garbage, recycling, & organics collections are suspended Mon 1/26 & Tue 1/27 due to snow operations.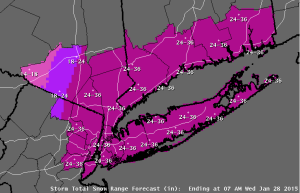 The National Weather Service in New York is predicting a total of 24-36″ of total snowfall from this system.  The city and surrounding areas are under a BLIZZARD WARNING.  To read the full text of the warning, CLICK HERE.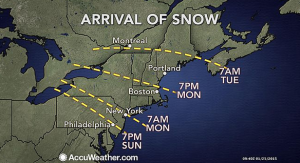 AccuWeather's LATEST UPDATES on the storm can be found here.
The American Red Cross has posted a list of blizzard safety tips.